Donnie Hunt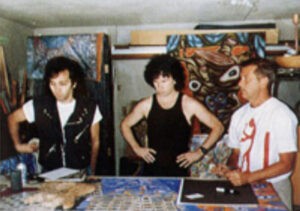 Donnie Hunt was a San Francisco-based artist who provided the unique artwork for the Ibanez JS3 range.
Originally from Texas, he held a BA in painting from the California College of Arts in Oakland and Masters degrees from San Jose University. He was well-known in the Bay area for his work using a variety of materials.
He was a family friend of guitarist Joe Satriani and came to wider prominence when he provided a range of stage clothes for Satriani featuring bold designs. Satriani asked him to paint some of his guitars, and then he was then asked to bring his distinctive style to the JS range of guitars, and the JS3, debuting in 1990, was set aside for his work.
He was reportedly paid just $300 per guitar and spent many hours hand painting unique and intricate designs on each one of them. During the process he became increasingly ill  and some have suggested that his later designs became more gloomy as a result.
Donnie Hunt died of liver failure on June 23rd 1996 at his home in San Leandro. He was 49 years old.