JS3 Models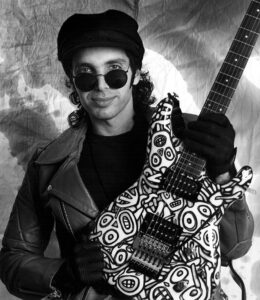 The Ibanez JS3 was introduced in 1990 as a custom-order model in the Joe Satriani signature range, with individual artwork painted by Donnie Hunt. It was based on the JS1 which was also introduced in 1990. Hunt hand-painted each model at his home in the US, often working on many at the same time, before they were delivered to Ibanez for clear-coating and assembly. The model appeared in the catalog near the top of the range at $2,299.
Of the information surrounding the history of the JS3, very little has come directly from Hoshino (Ibanez's parent company), so it has fallen to owners and enthusiasts to piece together the JS3 story. One of the key unknowns is just how many were built. At some stage a figure of 300 was discussed and this became accepted as fact, even though those people who have dealt with the JS3 in the following years suggest that there is no evidence that there were ever more than 70 models at most.
The model was withdrawn from the product line in 1993, and the untimely death of Donnie Hunt in 1996 meant that there would be no anniversary models.
Donnies have always been one of the most collectible of Ibanez guitars. Their premium price at retail and limited availability ensured that they always held a position of status within the range, but this has continued to grow as time has passed. They change hands fairly rarely and often hold a prize position within a collection.
Each one had a unique Ibanez serial number, and Hunt often included his own number which he incremented as he painted each new one. We know very few of either numbers of the models below, so the numbers on the left are purely for the purposes of reference for this website.
The images below have been collated from various sources, often in fairly low resolution, but have been normalised into the same format to allow easier comparison between Donnie Hunt's artworks. Click an image for an expanded view.
To date, we have managed to accumulate 34 different model images. In cases where the owner is public knowledge we have stated it. If you are lucky enough to own a Donnie, please consider allowing us to add it to this historical record, even if it's on the basis of strict anonymity. Contact information is at the foot of the page.
Ref
Image
Description
D1
The Prototype
Owner: Unknown
Location: Unknown
The first model in the list is not an official JS3. This is the prototype that Donnie Hunt created based on stock Ibanez parts. Close examination of the body shows different designs layered on top of each other.
D2
Donnie F
Owner: Joe Satriani
Location: Unknown
This model is the one that is most often associated with Joe Satriani. It was stolen in 2000 and has remained missing ever since.
D3
Owner: Joe Satriani
Location: USA
D4
Pink Donnie
Owner: Joe Satriani
Location: USA
D5
Owner: Joe Satriani
Location: USA
D6
Blue Donnie
Owner: Joe Satriani
Location: USA
D7
#6
Owner: Brett Coleman
Location: USA

D8
#26
Owner: Unknown
Location: Unknown
This model was sold by Ibanez Rules. It's one of the models that was professionally copied by Ed Roman guitars.
D9
#24
Owner: Unknown
Location: Unknown
D10
#25
Owner: Anonymous
Location: USA
This model was bought in Dallas in the early 90's and its owner has been using it ever since.
D11
#12
Owner: Jeff Shirkey
Location: USA
D12
Owner: Rich Harris
Location: USA
This is the first in the list that is owned by Rich, who also owns and operates Ibanez Rules, the US Ibanez dealership. Rich is the Donnie expert, and also their most prolific collector.
D13
Owner: Rich Harris
Location: USA
D14
Owner: Rich Harris
Location: USA
D15
Owner: Rich Harris
Location: USA
D16
Owner: Rich Harris
Location: USA
D17
Owner: Rich Harris
Location: USA
D18
Owner: Rich Harris
Location: USA
D19
Owner: Rich Harris
Location: USA
D20
Owner: Rich Harris
Location: USA
D21
Owner: Rich Harris
Location: USA
D22
Owner: Rich Harris
Location: USA
D23
Owner: Rich Harris
Location: USA
This model is one of the most recent to trade publicly, having been advertised on Reverb in France.
D24
Owner: Ryan Hill
Location: CA
D25
Owner: Unknown
Location: Unknown
D26
#34
Owner: Unknown
Location: Unknown
This is another that has been traded publicly in the last decade, having briefly appeared on Gumtree.
D27
Owner: Private
Location: Australia
D28
Owner: Christopher Guest
Location: CA
The first of two owned by members of the band Spinal Tap.
D29
Owner: Michael McKean
Location: USA
The second from Spinal Tap.
D30
Owner: Unknown
Location: Unknown
D31
Owner: Hoshino
Location: Hoshino Board Room
Supposedly, this is #1 and hangs in the Hoshino board room.
D32
Owner: Private
Location: USA
D33
Owner: Private
Location: USA
D34


Owner: Anonymous
Location: USA
Contact: Phil John